Giving Tree
The Giving Tree will be up on Sunday, December 1. Choose a sock with a child's name and gift. Purchase and wrap the gift and return it to church by Sunday, December 22. It will brighten the holidays for one of the refugee children we help to support.
Christmas Luncheon
Sunday, December 15 immediately following the service we will have our Christmas dinner. There is a sign-up sheet on the bulletin board in Fellowship Hall. Along with lunch you get some carol singing and a visit from Old Saint Nick.
Holiday Concert
Sunday, December 15, 2013, come join the Cumberland-Lincoln Community Chorus (CLCC) at its Holiday Concert. This is a fast-paced 90 minute program with a 15-minute intermission. The CLCC is a spirited chorus, and this season's holiday music is sure to enlighten, and entertain all ages. There is no admission charge for the concert but there will be a good will offering to assist the Chorus with its continued community outreach program. For more information please visit their website.
PICA
The Fourth Sunday of the Month
Bring your nonperishable food items to church any Sunday, they will be presented on the fourth Sunday of the month for the Providence Intown Church Association Food Pantry.
In the News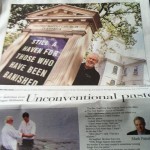 Dan, his signs, and the church were featured in an article written by Mark Patinkin in the Providence Journal on Sunday, September 22.
American Baptist Gathering
The choir sang at the American Baptist Mission Summit in Kansas City in June as part of the 375th Anniversary Celebration.
God Makes A Path CD available now
The vocal and choral music on God Makes a Path includes the title track (with words by Roger Williams, who gathered the congregation in 1638); "Lord, for Thy Tender Mercies Sake" (attr. Richard Farrant); "Come We that Love the Lord': and "River in Judea".
The CD also features solo performances by oboist Katie Scheele (Ennio Morricone's "Gabriel's Oboe," the Main Title from the film The Mission); violinist Arturo Delmoni, the Concertmaster of the New York Ballet Orchestra (the Adagio from Marcello's Oboe Concerto); Stephen Martorella (Scriabin's Piano Prelund in D-flat); and Steven Unruh (Appalachian-­‐fiddle-­‐style improvisations of "Were You There" and "Amazing Grace").
The CD sells for $15.00. More information.