Retired Ministers and Missionaries Offering
RMMO is a tangible way the American Baptist family demonstrates their appreciation for the commitment, service and spiritual guidance of retired ministers, missionaries and their widowed spouses. This offering supports those who have devoted their lives to God's service by providing emergency assistance in times of need and a thank you check at the end of each year. Information and envelopes will be available in the auditorium during the month of December.
Christmas Lunch
Sunday, December 20 following the worship service. More info to follow.
Out of the Darkness Walk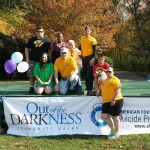 7 members of the church walked on Saturday at Slater Park in support of suicide education and prevention. They walked as Team Curtis and McD.
A new refugee family
We have been blessed with a new family from Eritrea. Read more about how you can help this mom and six children make a new home in Rhode Island.
LaRomana DR Mission Trip
6 members of our congregation (Frank Nicholson, Tristan and Ann Marie Dominigues, Richard, Susan and Emma Lepore) will be traveling to LaRomana, DR January 3 – 10 to continue work on the Good Samaritan Hospital and to provide medical clinics in the batayes and barrios. Please keep them as those they will be traveling with in your prayers as they prepare for the trip.
Sacred Spaces of New England
The church is included on the Sacred Spaces of New England website. It includes a beautiful panorama of the Auditorium.
PICA
The Fourth Sunday of the Month
Bring your nonperishable food items to church any Sunday, they will be presented on the fourth Sunday of the month for the Providence Intown Church Association Food Pantry.