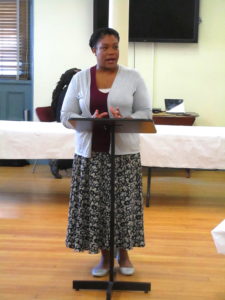 Kilah Walters-Clinton spoke on the issue of mass incarceration and particularly the effect it has on the children of those incarcerated.
For more information, she recommended the documentary Sons and Daughters of the Incarcerated by Rebecca Stern and Denali Tiller.
If you wish to make a difference in the life of a child, she recommends RISE – Rhode Islanders Sponsoring Education. The mission of RISE is to provide scholarships and mentoring to children of currently and formerly incarcerated parents in order to break the intergenerational cycle of poverty, crime and addiction that too often threatens them.
They are always looking for mentors and financial support.