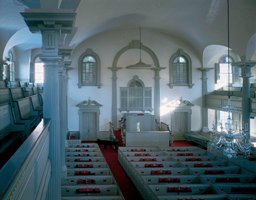 The Meeting House sits on approximately one acre bounded by city streets. Parking on the church property is limited to 6-8 cars, but on Sundays and evenings street parking is permitted, and several adjacent private parking lots are available without charge. The church lawn, shaded with stately elm trees, is practically part of the campus of the Rhode Island School of Design as students lounge about and sit to draw and paint.
The auditorium, which is 80 x 80 feet, occupies the main level with entrances on all four sides. (View panorama of Auditorium.) An effective public address system was installed in the auditorium in 1994. A balcony runs on three sides, housing the organ and choir areas. The organ was rebuilt in 2000. The office of the Minister of Music is in the area behind the organ.
An added extension to the auditorium in 1884 contains the baptistry, the rear inside stairs, and the back rear foyer entrances, and a handicap entrance installed in 1999.
The area beneath the auditorium, and opening at street level on three sides, includes:
a large Fellowship Room, used for meetings or dining
an adjacent, large, well-equipped kitchen
the Manning Room: a 14 x 24 foot room, used for committees and other small groups
a nursery room, large children's Sunday school room and children's restroom
offices for the Minister, the secretary, the bookkeeper, and office work room
a room housing filing cabinets, and mail boxes for the church committees and officers
a room for the small church library and used for committees and small groups
a room for the photocopy machine, which is also used for small meetings and groups.
a souvenir nook and extensive storage spaces.
Beneath the lower level is a basement containing the boilers, sprinkler systems controls and other mechanicals for the building. New boilers were installed in 2005.