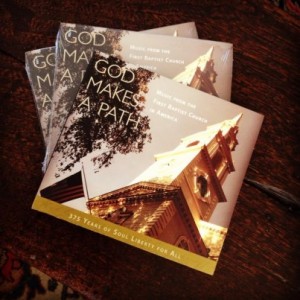 Available for sale
$15.00 + $2.00 shipping and handling.

The First Baptist Church in America is pleased to announce the release of God Makes a Path, a new Compact Disc project that celebrates the history and the musical traditions of the First Baptist Church in America, whose 375th anniversary falls in 2013.
This CD consists of all new recordings made in the acoustically splendid Auditorium of the Church's Meeting House, a National Register of Historic Places landmark that was built 1774-1775. The Auditorium of the Third Meeting House's horse-hair plaster ceiling combines with the barrel vault over the main floor and the cross-vaults over the balconies to create a wonderful acoustical environment for performing or recording.
Tracks:
1. The Bell in the Meeting House Steeple
First cast in 1784
2. Prelude on the Welsh Hymn Tune Bryn Calfaria
R. Vauaghn Williams/LudwigMasters Publications
Stephen Martorella, organ
3. Psalm 23
Revised Standard Version
Pastor Dan Ivins
4. The Lord is My Shepherd
Randall Thompson/E.C. Schirmer Publishing
FBCIA choir
5. God Makes a Path (Dundee)


Tune from the Scottish Psalter of 1615
Harmonization from Thomas Favenscroft's Whole Book of Psalmes, 1621
Words by Roger Williams
FBCIA Choir
6. The Lord is Good (from Eli)
Michael Costa
FBCIA choir
7. Jul
Otto Olsson
Stephen Martorella, organ
8. Wasn't That a Mighty Day


Traditional, arr. Jacqueline B. Hairsont/J.H. Productions. Classical Vocal Reprints
Margaret Frazier, soprano; Stephen Martorella, piano
9. Adagio from Oboe Concerto in d
Alessandro Marcello
Arturo Delmoni, violin; Stephen Martorella, organ
10. Lord, for Thy Tender Mercy's Sake
Attr. Richard Farrant
FBCIA choir
11. Prelude in D-flat, Op. 11 No. 15
Alexander Scriabin
Stephen Martorella, piano
12. "Pie Jesu" from Requiem, Op.9


Maurice Durufle/Editions Durand
Esperanza Tannehill, mezzo-soprano; Daniel Harp, violoncella:
Stephen Martorella, organ
13. Improvisation on "Were You There"
Steven Unruh/&#169 2012 The First Baptist Church in America
Steven Unruh, fiddle and flute; Stephen Martorella, piano
14. "Gabriel's Oboe" (Main Title from The Mission)


Ennio Morricone/Faber Music
Katie Scheele, oboe; Stephen Martorella, organ
15. Climbin' Up D' Mountain


Traditional
The Men of the Choir
16. "The Lord is My Shepherd" from Requiem


Mack Wilberg/Oxford University Press
Jason Shealy, baritone; Stephen Martorella, piano
17. Come We That Love the Lord (Lonsdale)
Words by Isaac Watts, music by Aaron Williams
FBCIA Choir
18. Improvisation on "Amazing Grace" (New Britain)


Stevn Unruh/&#169 2012 The First Baptist Church in America
Steven Unruh, fiddle; Stephen Martorella, piano
19. River in Judea


Jack Feldman and Linda Marcus/Shawnee Press
FBCIA Choir
20. Prelude on the Welsh Hymn Tune Hyfrydol
R Vaughan Willimas/ LudwigMasters Publications
Stephen Martorella, organ